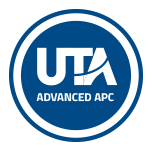 History - Automatic Passenger Counters (APC) | UTA
UTA was founded in 1981. The APC system was originally developed at General Motors Transportation System Division (GM TSD) between 1976-1981. General Motors disbanded the Transportation Systems Division in 1981 and APC sub system was sold to the newly formed Urban Transportation Associates, Inc. UTA is an entrepreneurial start up prospering as an APC systems provider for more than three (3) decades in the ITS marketplace. UTA specializes in providing APC systems, automated data collection and analysis tools. UTA's longevity in the transit marketplace assures clients that an APC system provided by UTA will operate successfully and meet analytic needs for a minimum of 10 years. Many transit agencies have been utilizing UTA's APC system for 15-20 years.
UTA Team
Thomas W. Kowalski – President and CEO
David Bosshammer - Chief Technical Officer
David Vanderputten - Director of Engineering
Chris Cooper - Chief Field Engineer
David Hatzenbuhler - Chief Hardware Engineer
George Perkins - Senior Field Engineer
Sandesh Samdaria - Chief Planner
Kevin Moore - Chief Software Engineer
Nick Fischer - Senior Software Engineer
Michael Kowalski - Software Engineer/Hardware Technician
Mark Vanderputten - Senior Purchasing Manager
Debbie Scheetz - Administrative Manager
UTA Transit Partners
UTA has privileged and long term relationships with all its partners, suppliers and sub-contractors.
Employee Owned
UTA is an employee-owned firm. 100% of UTA stock is owned by active employees.
Cumulative Experience
UTA brings more than 150 cumulative years of experience in implementing APC systems in transit organizations. Academically, UTA staff supporting all APC implementation has 12 advanced degrees
About Us - Automatic Passenger Counters (APC) | UT

/* */